My interactive exhibits and experiences work merges the field of Interaction Design with the particular domain expertise of my various clients. We work collaboratively to develop projects to engage their public in meaningful and delightful ways. I enjoy working with challenging material or project contexts.
A Human-Centered Design Process

Because the projects are often the first of their kind, I begin with domain research and frequently partner with experts in the particular field. I build on this knowledge base by using a human-centered design process where I design and iterate extensively with the end-users until I arrive at an interactive experience that is informative and delightful. Here is a sampling of some of my work.
If you would like to learn more, and discuss how this process could be applied to your project, please contact me.

Shown at left: Sainsbury Wellcome Centre Colonade Exhibit.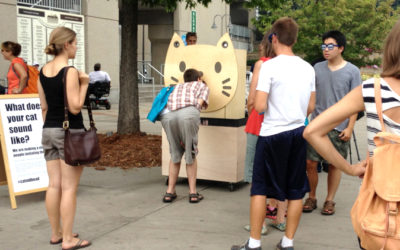 People Imitating Cats was a project created for the Walker Art Center in conjunction with their Internet Cat Video Festival.
read more